April 15, 2018 – Welcome Beta Gammas!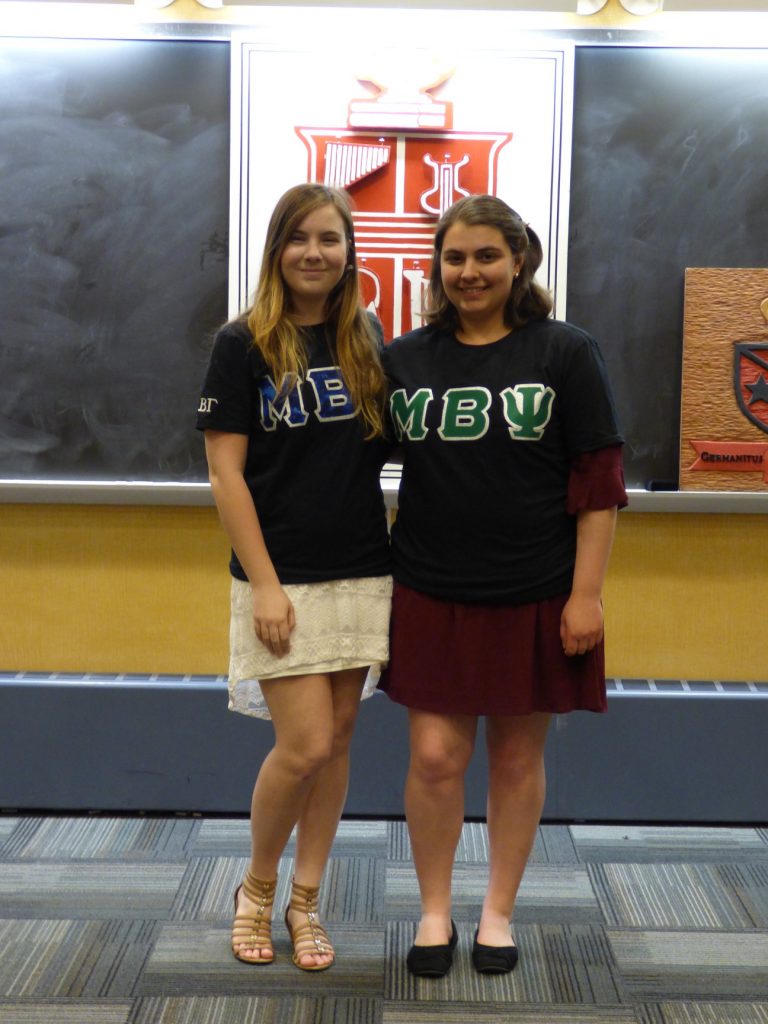 Congratulations to the Beta Gammas! The newest class addition to our wonderful Brotherhood!
We wish them the best as they begin their careers as Brothers at our Chapter!
Pictured: (From Left to Right) Nicole King and Katelyn Spina
February 7, 2018 – Blood Drive!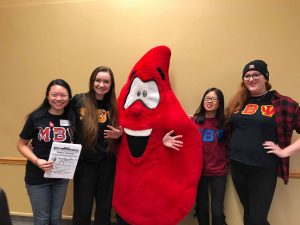 Our most recent blood drive took place on February 7th. The Brothers had a lot of fun dancing around in the blood drop costume to advertise! We received 38 donations! We are thankful to everyone for coming out and supporting us and helping to save lives!
From left to right: Aarona Fong (Alpha Psi), Jena Eckenroad (Alpha Omega), Blood Drop (Unknown), Georgette Stillman (Beta Alpha), and Rachel Parsons (Alpha Psi)
January 22-26, 2018 – Rush Week!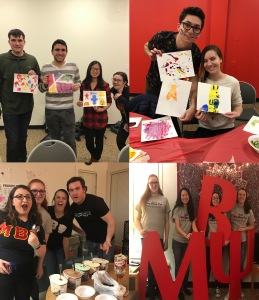 The week of January 22nd was Mu Beta Psi's Spring Rush Week. We had lots of fun meeting new people! Event such as Game Night, Ice Cream Social and Info Night, Trivia Night, and Finger Painting brought out big crowds!
Top Left Picture: Andy Rears (Beta Alpha), PJ Amendolia (Alpha Psi), and Georgette Stillman (Beta Alpha) show off their paintings and Allyson Wagner (Alpha Chi) poses next to them.
Top Right Picture: Tony Moore (Rushee) and Nicole King (Rushee) show off their artistry.
Bottom Left Picture: Kelly Blackwood (Alpha Chi), Rachel Parsons (Alpha Psi), Michelle Mitchell (Alpha Psi), and Ben Weise (Alpha Omega) are ready to scoop ice cream!
Bottom Right Picture: The Alpha Psi girls stand with our letters!
January 20, 2018 – Snowball!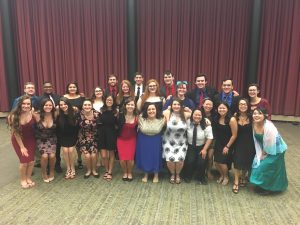 Mu Beta Psi's 8th annual Snowball was held on Saturday, January 20th in the Cook Campus Center, benefiting the VH1 Save the Music Foundations, a national charity that is dedicated to "helping kids, schools, and communities realize their full potential through the power of making music" by providing instruments, equipment, and professional development to jump-start their music programs. It was a great night for all, featuring music from Beats for a Cause, Queen's Chorale, and Connor Brogan!
A big thanks goes to Jena Eckenroad and TJ Johnson for organizing such a successful event!